JERUSALEM | In a competition sponsored by Palestine Islamic Bank, a member of Al-Quds University's Faculty of Pharmacy was crowned winner for his published research "Impact of antimicrobial stewardship program on hospitalized patients at the intensive care unit: a prospective audit and feedback study".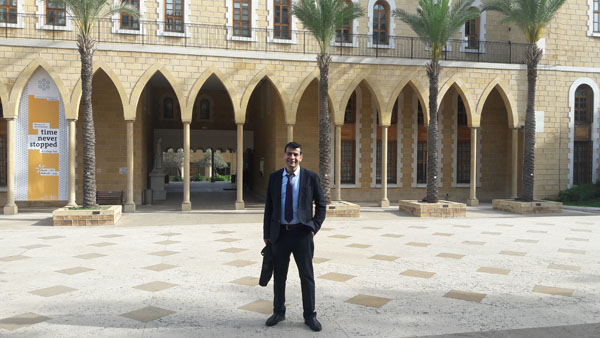 Dr. Maher Khdour was awarded first prize in the 2018 competition which is organized annually by Al-Quds University and Palestine Polytechnic University to select the best among the published researches of Palestinian universities.
University President Professor Imad Abu Kishk congratulated Dr. Khdour on his excellence as a researcher, while commending the university's researchers for their crucial role in promoting the scientific capacities of AQU and contributing to sustainable development within the Palestinian society.
Dean of the Faculty of Pharmacy Dr. Ahmed Amro, for his part, said that Dr. Khdour's scientific accomplishments "demonstrate the faculty's commitment to excellence in scientific output". In this respect, he emphasized that the faculty exerts every possible effort to support its researchers and provide the necessary laboratory facilities and technical support to assist in promoting creative pharmaceutical researches.
Head of the Palestinian Pharmacists' Syndicate, Mr. Ayman Khammash, congratulated Dr. Khdour as well, praising the crucial role the AQU's Faculty of Pharmacy plays in promoting the pharmaceutical profession in Palestine. The syndicate "will remain a reliable partner to Al-Quds University in the training of Pharmacy students," added Mr. Khammash.
Dr. Maher Khdour, the award winner, is an associate professor at the Faculty of Pharmacy of Al-Quds University. As a researcher, he is particularly interested in themes relating to pharmacology, medical care, and pharmaceutical relations. His present research, which highlights the health and economic benefits of rationalizing the use of antibiotics at the intensive care units of hospitals, is published in the British Journal of Pharmacology.
Established in 2002, the Faculty of Pharmacy at AQU has graduated a host of distinguished pharmacists and academics who have excelled in the Palestinian health sector and academia. Currently, the faculty offers bachelor's degree in pharmacy and master's and higher diploma in pharmaceutical sciences.